If you're dealing with shoulder blade pain, you know how annoying and uncomfortable it can be.
You want to move your arms freely again but the constant ache in your shoulders is preventing you from doing so.
The limited movement will also be stopping you from carrying out everyday activities without experiencing pain such as driving or putting your groceries away.
Unfortunately, many people don't understand the exact cause of their discomfort or how to get short-term relief at home.
We've created this blog to provide you with an understanding of what causes shoulder blade pain as well as 4 helpful steps that can ease discomfort at home.
By giving yourself relief now, you'll be well on your way to enjoying a wider range of activities without any soreness getting in your way!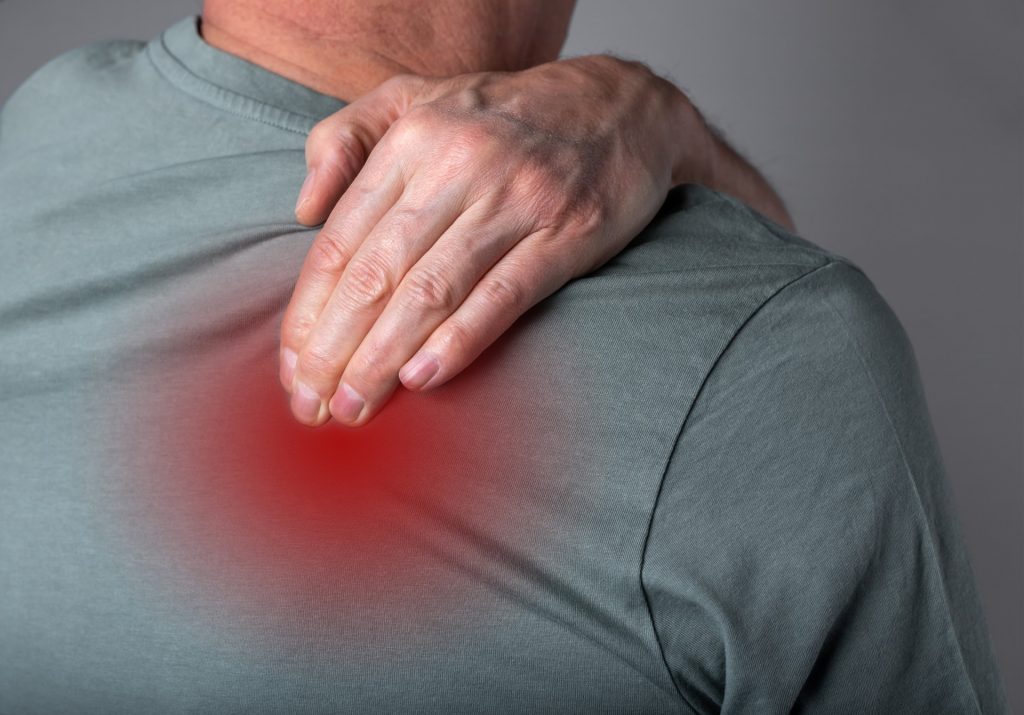 Common Causes Of Shoulder Blade Pain
Shoulder blade pain can often be a difficult issue to deal with, and it often occurs with no apparent cause.
If your shoulder blade pain seems to have started out of the blue, keep reading to discover the reasons it could have started.
One cause of shoulder blade pain is an injury to the muscles or ligaments in the shoulder area, which can occur from physical strain from lifting heavy objects, or from falling on the shoulder blade region.
This pain can be particularly excruciating and even last for weeks. If you've been suffering from shoulder blade pain for an extended amount of time, you may have pulled a muscle.
Poor posture can also be a contributing factor, as it can lead to weakening and tightness of shoulder muscles, leading to tension and discomfort.
Poor posture can also contribute to muscle imbalances from using one shoulder muscle group more than the other.
One shoulder muscle group can end up weaker than the other shoulder muscle group and this can result in uneven shoulder blade pressure and cause shoulder pain.
Now you know some of the most common causes of shoulder blade pain, we've put together 4 easy steps to ease your annoying shoulder pain in the short term.
4 Steps To Ease Shoulder Blade Pain
Use Heat
Applying heat to the painful area can help to reduce tension in tight muscles, reduce soreness and increase blood circulation, in turn, promoting the body's natural healing process.
To use heat to treat your pain, you could try anything from taking a hot bath to utilizing a heating pad.
Keep in mind that while heat offers temporary relief, it's important to look at the underlying causes of shoulder pain if you've been experiencing shoulder blade pain for a long time.
Use Ice
Using ice to treat your shoulder blade pain could provide you with the pain relief you're looking for.
Ice aids in reducing inflammation in the shoulder area, as well as numbing the nerves responsible for sending pain signals to the brain.
Additionally, applying ice to the shoulder blades allows muscles and connective tissue time to relax, which promotes better blood flow throughout the area so your body can prioritize healing.
Stretch Muscles
Shoulder blade pain can be eased with regular stretching of the shoulder and chest muscles.
Stretching helps to improve your range of movement, alleviate tension in the shoulder blades, and reduce tightness in the muscles – all of which work together to reduce shoulder blade pain.
Spending even 10-15 minutes per day on stretching is a productive step towards relieving shoulder blade pain.
Correct Posture
Correcting your posture to ease your shoulder blade pain can be a very effective method.
However, you have to keep it up.
Your new posture should see your shoulders, hips, and neck are all in line and you should maintain an upright back position without slouching.
Improved posture also helps shoulder blades fit better into their respective sockets which promotes longevity and health of shoulder muscles over time.
How Physical Therapy Can Ease Shoulder Blade Pain
Shoulder blade pain can be one of the hardest types of pain to endure, especially when you're trying to carry out everyday activities without disruption.
Although the tips in this blog can provide you with short-term pain relief, we know you want a long-term solution to see the pain go away for good.
Physical therapy could be the best option for you to achieve that.
Physical therapists use different techniques such as soft-tissue massage, stretching exercises, strengthening exercises, or joint mobilization to decrease shoulder blade pain and help improve shoulder range of motion.
Here at Kriz Physical Therapy, we offer a free discovery session where you can talk to one of our expert physical therapists, ask questions that you have and discover the best treatment options for you to recover from your shoulder blade pain and get back to being pain-free.
To request your free discovery session, fill in our simple web form, or if you prefer to talk on the telephone, call our Bonita Springs Clinic at (239) 992-6700.
Right Now We Also Offer…
If you feel like you're ready to come into our clinic and finally address your shoulder pain problems, our shoulder pain assessment could start you on the path to a pain-free life.
During your shoulder pain assessment, you can speak to one of our physical therapists about the problems you're having. They will be able to get to the root cause of your shoulder pain and create a personalized plan of care to help you eliminate your shoulder pain for good.
To enquire about shoulder pain assessment availability, fill in our simple web form or call us at (239) 992-6700.
Other Free Resources To Help Shoulder Pain